Driving on The Edge Nominated for Award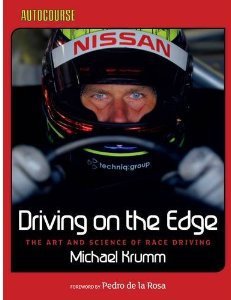 Date: 10th April 2012
Announced today in the UK, 2011 FIA GT1 World Champion, Michael Krumms book "Driving on the Edge" has been shortlisted in the Motorsport Book of the Year awards, a category in the British Sports Book Awards. The British Sports Book Awards is celebrating its tenth anniversary in 2012 and will be shown on Sky Sports news on the 25th of May.
Driving on the Edge is published by Autocourse and has been universally praised by all levels of drivers and professionals within the motorsport industry. Michael wrote the book to offer all levels of drivers, motorsport professionals and enthusiast both a guide to what a driver has to work on and an insight into the potential every driver has to increase his or her performance on the track.
" I am very honoured to be shortlisted for this award, it really is a surprise when you consider the number of books published about Motorsport every year that we made this list. Bryn and Steve at Autocourse did a fantastic job for us in publishing this book and really understood what we would like to achieve with it, so this is as much for them as well." Michael commented today.
To read more about the awards and the Shortlist of Motorsport books please follow this link.
http://www.britishsportsbookawards.co.uk/
To read more about the Author Michael Krumm who in 2012 will be competing again for Nissan in Japanese Super GT and driving the revolutionary Nissan DeltaWing at the 24 Hours of Le Mans www.michaelkrumm and his publisher www.autocourse.com
ENDS